Launched in October 2019, Edzard van der Wyck, Michael Wessely, and Gavin Erasmus had a vision stretching beyond wear-and-tear synthetics and ambiguous promises of sustainable fashion. Instead, they decided to go one step further by realizing an idea that would bind every owner of their Merino wool sweaters to an actual adopted sheep. Not only are sweater owners able to track its adopted sheep through an NFC tag, but the company, Sheep Included, has pledged to offset not one, not two – but 10x the carbon emissions related to its production. Sheep Inc. is revolutionizing fashion by bringing customers in touch with the origins of their lasting sweaters and lessening environmental damage by pursuing biodiversity projects through their fund.
Where did it all begin? What made you decide to launch Sheep Included?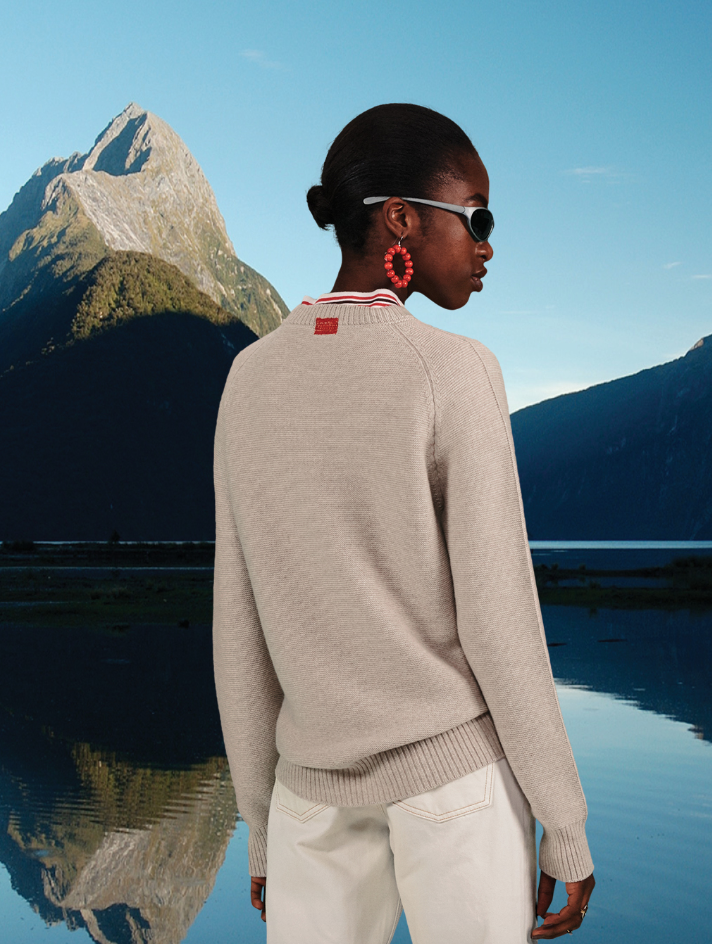 Whilst running my previous business, I saw the impact of fashion on the environment first-hand. That combined with the birth of my son really shook me into action. I left my last business to set up Sheep Inc. with the idea of creating a new model for how a fashion business could behave. One that would allow you to create beautiful products, whilst still addressing the climate emergency head-on.
Our starting point was designing a classic wardrobe staple, the crew neck sweater, and trying to perfect it. That meant making sure it felt amazing to wear, would be incredibly long-lasting and use materials with minimal impact on the environment. We chose a special blend of Merino wool that has all the softness of cashmere, with all the technical benefits of wool. Meaning it is heat regulating (warm when cold, breathable when hot) and doesn't need to be washed often, as it naturally repels dirt and doesn't hold moisture or odors. On top of that, it is incredibly durable. Whilst simultaneously being 100% biodegradable.
How does Sheep Inc. work with carbon-negativity, while ensuring that sustainability projects are followed up? 
From an environmental point of view, our starting point was that the current, number one planetary concern is to reduce the amount of carbon in the atmosphere. And doing it quickly. This means drastically dropping our carbon emissions, or we are in serious trouble. There has been a lot of talk about carbon-neutrality at the moment as the solution, but our position is that it doesn't push things far enough. If we want to get out of the situation we're in, we need to become carbon-negative. The way we do this is by making sure we work with as many sustainable suppliers as possible — e.g. carbon-neutral farms, manufacturers that run on 100% renewable energy, etc. Then we offset the remaining footprint of the manufacturing, use and the sheep tenfold. We have an internal guiding light of carbon-negative = future-positive.
To counter the impact of each sweater's footprint, every purchase adds to an environmental fund dedicated to biodiversity projects. These projects offset the sweater's impact tenfold. Projects are chosen with the guidance of an advisory panel of climate experts and scientists to ensure that they have the most regenerative impact.
What do you mean when you say that part of each purchase goes to an 'environmental fund dedicated to biodiversity projects'?
We dedicate 5% of our revenue towards biodiversity investments. This allows us to offset around 325 kg of carbon per sweater (although our mix of investments means our actual positive impact is in fact far higher). These investments are carefully vetted by an independent advisory panel of climate change experts.
The way we deploy our investment is by splitting it into three tranches. The first tranche is allocated towards biodiversity projects on the farms we work with. So, carbon-insetting projects that are directly related to our supply chain.
The second tranche is for projects that aim to restore areas that have been impacted by over-farming. So, aiming to offset the impact of the wider industry we operate in (agriculture/fashion). The final, third tranche is designated for projects that need it most with the criteria being sourcing projects that require an immediate impact. Like the mass deforestation of the Amazon.
This means our biodiversity projects range from on-farm environmental and sustainable agricultural development projects to certified carbon offset projects such as reforestation with community development; mangrove planting to exploring biogas from farm and household waste.
The Sheep Inc. portfolio is being structured to ensure we have certified offsets to hit our 10x sweater carbon dioxide offset. However, we also invest in projects in affected areas where a carbon certification is not possible or worth pursuing. So the impact of our portfolio is bigger than just the 10x.
On the above, it is important to note that as a starting point, we only work with suppliers who hit the highest sustainable benchmarks. One of the farms we work with, Lake Hawea, has actually already achieved carbon-neutrality through investment into on-farm environmental projects — and are aiming to match our 10x carbon-negative impact next. To achieve this, they are going to plant ten thousand trees for the next ten years (they've already planted the first ten thousand).
Is carbon-offsetting feasible in the long-run or does Sheep Included have other solutions in mind?
Having said all of this, carbon-offsetting isn't the perfect solution by any means. We ideally would like to be in a place where no offsetting has to happen. But there is a current urgent need to offset the effects of businesses' behavior. And this is a way of having an immediate impact on something that is going to take a long time to fix.
We want to be totally transparent about how your product got made and what it required of the animals, employees, environment to get it to your door.
Do you think that contemporary fast-fashion brands are doing enough in terms of environmental commitment?
The carbon offset investments proposed by a few of the bigger fashion companies recently, really are a pittance compared to their profit. To give you an indication: compared to a recent carbon-offsetting commitment by one of the bigger fashion houses, Sheep Inc. invests about 50 times more. 
… So what does the future hold for Sheep Inc then, and what are your hopes for the wider fashion industry as they struggle to operate sustainably?
Whilst they [fashion brands] are fixing to make their supply chains more sustainable, we really want to push the wider industry to commit a lot more. We aim to push the industry, fashion or otherwise, to do more. And to do it now. 
We have an internal guiding light of carbon-negative = future-positive.
Adopting a sheep with your sweater purchase is quite a radical and innovative idea… why did you at Sheep Inc. come up with this unique concept?
As part of our concept, we actually allocate you a sheep adoptee from one of the farms your sweater's wool is from. So it will be one of the sheep who contributed to the sweater. It's our way of bringing you back in touch with the origins of the sweater. 
Does it just take the wool of one sheep to make a sweater?
A sheep produces around 5kg of greasy wool a year (so wool that still contains biomatter and other natural debris that gets caught in the wool). Once you scour (i.e. clean) the wool you're left with about 3 kg. Each of our sweaters has about 500 grams of wool in it, so you can make around 6 sweaters per sheep.
Although the sheep who provide us their wool are all Merino sheep who produce ultra-fine type Merino wool, each has their own unique fiber length. Therefore, each sweater has a mix of wool from different sheep
Can you tell us more about the personal NFC tag?
Each sweater has a tag on it with a unique number laser engraved in it. The tag itself is made out of castor beans, to again minimize the impact. The tag houses an NFC chip and has a QR code on the back. If you scan it with your phone (no app required), you'll get a full breakdown of the jumper's journey. From wool shearing dates to the name of the person who hand-finished your sweater. We also include details on the carbon-impact every step of the way. We want to be totally transparent about how your product got made and what is required of the animals, employees, environment to get it to your door. 
Why is it so important to involve the end consumer in the making of the product?
Big changes will only come when people change the way they shop. The goal is that people will no longer buy things when they don't have insight into how it was made. It's a shift in mindset. Ideally, we need governmental intervention to push companies to be fully transparent, but this is a long way off. For now, we aim to do as much as we can to equip the consumer with the correct information to enable them to make the right decisions. 
Being totally transparent allows customers to trust us. And also allows us to be very open about where we can improve, like trying to constantly reduce our overall footprint.
Since the Merino wool that you use comes from New Zealand, is there any way for Sheep Inc. to have greener means of shipment? If not already in place, are there any long-term goals of implementing such measures and any ambitions to clean up the supply chain?
Although the jumper travels around the world, the carbon footprint of the transport is 1% of the overall footprint. We are working to try and reduce this further but we choose to work with ZQ-certified New Zealand wool as it is the best quality, and we wanted our product to rival luxury players. Furthermore, the animal's welfare is the highest in the world. The choices for the rest of the supply-chain came down to which factories and mills operated with the highest human and environmental welfare standards alongside quality. Unfortunately, a more local supply chain would come at the cost of quality and/or human and environmental welfare, however, it is something we are looking to improve. The highest carbon footprint of the jumper journey comes from the farms and we are working with them to make them carbon negative as well, which would be global first at scale. 
"We believe it is time to face the consequences of our actions. We believe the warnings. We believe we're running out of time. We believe in a better way of doing fashion. We believe in reconnecting to the source. We believe your clothes should be designed to last. We believe in transparency. We believe in ethical production. We believe 'sustainable' is no longer good enough. We believe in sheep"
– Edzard van der Wyck, Michael Wessely, and Gavin Erasmus, Sheep Inc. founders
For more information, check out Sheep Inc.'s Website or follow them on Instagram to keep up with their inspiring journey and new products!
---
av: Jana Paegle